Jewelry Bonney is a pirate who is the captain of the Bonney Pirates and she is a member of the 12 pirates referred to as the Worst Generation. She is known as the "Big Eater" or "Glutton" since she is eating so much.
I wonder how she is so thin and sexy :P. In this post, we suggest to you the best One Piece Jewelry Bonney figure you can find in the market today, bar none!
==>Check our theory about Jewelry Bonney's devil fruit here<==
Banpresto Jewelry Bonney Figure
---
Starting off with a figure from our favorite action figure company Banpresto. It comes from the Glitter and Glamours line and features Bonney in a really hot pose. Minor assembly of the figure is required, which certainly adds to the fun. Just be careful that it's suitable for individuals above 15 years old. What's more, it's an officially licensed product, since it bears the Bandai Import Collection sticker.
==>Get the Banpresto Jewelry Bonney figure here<==
Banpresto Bonney Figure Set of 2
---
Did you love this Jewelry Bonney figure and are hungry for more? Well, we've got you covered with this package of two figures from Banpresto.
They look identical, other than the clothing which is really different. In fact, I believe I prefer the total black look on the second one :P.
The Glitter & Glamours line of figures is a guarantee of quality, so don't hesitate to grab this package. No second thoughts here :D.
==>Click here to get the Banpresto package of 2 figures for yourself!<==
Jewelry Bonney Grandine Lady Figure
---
Do you prefer Bonney with her hat on? Do you also prefer to have a figure of hers with her light pink lipstick more evident?
Then look no further than this exact figure. It's an officially licensed one from Banpresto Japan, and is approximately 7 inches tall.
A minor assembly is required here as well. You should be fast here because this one is limited quantity.
It also features a base which comes really handy for any collector out there.


==>Grab the figure before it runs out here<==
Jewelry Bonney + Nami Package
---
Do you happen to love our sexy cut burglar Nami as well? Then this package is certainly for you.
==>Learn how to cosplay Nami here<==
For a package price you can get both a figure of Nami and Bonney, and enhance your figure collection further. After all, who doesn't want to showcase our favorite navigator of the Straw Hats in their collection of figures?
They both come straight from Japan and are of the Grandine Lady line of figures, just like the previous figure we recommend on this list. Therefore, if you love Nami and Bonney alike, our favorite sexy pirates, be sure not to miss on this package of 2, while it's still available.
==>Grab the Nami + Bonney figure package while it's still available!<==
Bonney With Meat Figure
---
The next figure is one of my favorites from today's post. It comes from the wonderful Bandai Tamashii of course.
A really cool feature is that the arm and head parts are interchangeable. Can't imagine for what reason this one could be used :P.
Also, the cap is really cool since it is also removable. To top it all off, I love the meat she holds, which is typical of hers and also misses a bite :D.
==>Grab the Jewelry Bonney Meat Figure by clicking here<==
Jewelry Bonney the Glutton Figure
---
Moving on to our next pick, here you can get a figure of Bonney sitting. A different stance than the previous ones, which is something I personally enjoyed a lot. 
The One Piece Portrait of Pirates line of figures may be on the more expensive range of prices, but they have been proven time and again to be the most rewarding pieces any collector or fun can get. Jewelry Bonney's gluttony is presented with this figure in the most accurate way.
There is a base included, an alternate head, 6 extra alternate arms, an extra hand, a coat, a piece of pizza for her to hold and enjoy, a meaty drumstick, two extra suspenders in addition to the two already included on the figure, a hat, and a little metal chain by which someone can bind her hands together to recreate the scene in the show/manga in which she is captured by Blackbeard and a large swanky box to put everything inside.
Let's remember the epic moment here before we move further.
In summary, this figure is a no-brainer alternative for someone to get.
==>Click here to get the Bonney the Glutton figure<==
Jewelry Bonney Mini Figure
---
Enough with the tall figures, let's move on to something cuter. More specifically this kawai Jewelry Bonney mini figure.
It comes from Animewild and it features a more cartoonish version of Bonney, for the ones who don't like to take themselves too seriously. It's also perfect for children who prefer to play with more cartoonish figures, opposed to collectors.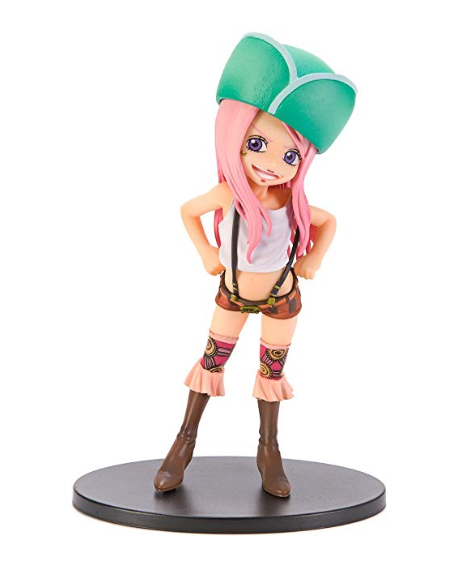 ==>Be sure to grab the Jewelry Bonney mini figure here<==
Jewelry Bonney Super-Mini Figure
---
Closing here with a really cure super miny figure of our favorite Bonney. At only 2 inches this figure is perfect for a cute collection of mini-figures.
What's more, it comes with a pretty cool base to stand it on. Also note that there aree ten figures available (each sold separately), that someone can choose from.
Namely, other popular characters from the series: Luffy, Usopp, Brook, Portgas D. Ace, Franky, Kizaru, Aokiji, Jewelry Bonney, Akainu, Eustass 'Captain' Kid. Be sure to grab the one that features your favorite character, if you're not satisfied with the Jewelry Bonney figure alone :P.
Be careful though with children under 15, since the figure is really small and is comprised of really small parts that can be swallowed.
==>Grab your Jewelry Bonney super-mini figure by clicking here<==
Grab your Favorite Figure Now!
---
So guys, really hoped you liked today's post and that it will prove to be helpful in your search for the best Jewelry Bonney One Piece figure out there. We really strived to pick the best figures we could find out there and review only the products that we ourselves would buy.
For a similar list of recommendations of one piece action figures and mini figures, be sure to click the links below.
==>Check our post on One Piece Action Figures here<==
==>Check our post on One Piece Mini-Figures here<==
We only suggest products that we really believe in. Be sure to grab your favorite one from the choices above. 
Question of the Day: Which one was your favorite figure from the above? Share in the comments section below.
Before you leave, don't forget to:
like our 

facebook

 page for cool anime updates
Join the OnePieceTheories free anime newsletter!
Thanks, Minna and I'll see you next time