With today's post we are going to introduce a series of posts with one piece action figures recommendations. We all have to satisfy our inner child, and what is better than quality action figures with our favorite
characters? (Playing video games is another effective way that is covered in another post :P).
Internet is a huge place
It is not difficult for someone to search online for one piece action figures. In fact, it is really easy to find numerous products online all over the place. But how do you differentiate what's worth it and what's not? That is exactly the purpose of this series of posts. We are going to recommend only the best of the products that exist online, so you don't have to rely on guesswork.
The suggestions
So without further ado, lets dive right into the best picks for today's post. The first pick belongs to the company Megahouse, one of the best in the marketplace right now.
Number 1–> Megahouse's Monkey D Luffy


It would be a shame if we didn't start our recommendations with the protagonist of the anime/manga, our beloved captain Mugiwara. We are featuring here a tall 7 inch action figure of high quality.
However, for those with a tighter budget there are some cheaper alternatives to consider.
Alternatives
If you are looking for something noticeably bigger, you can always go with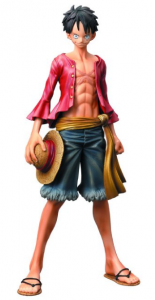 Banpresto's 10.25 inch figure, whose attention to detail makes it a must have for every collector. Don't buy this figure for any child below 3 years old, because the danger of choking is quite high due to its small parts.(that goes for all our action figure recommendations, because they all contain small parts).
We also have to include a smaller option at 5.5 inches, which comes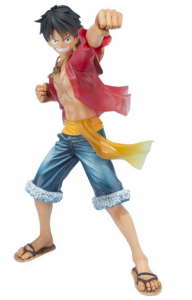 straight from Bandai Tamashii. This 5th anniversary action figure comes with a nice display base and if that's not enough, you can also adjust Luffy's hat by placing it either on his head or on his neck. Quite cool if you asked me.
Our last pick regarding Luffy is for those that don't want him standing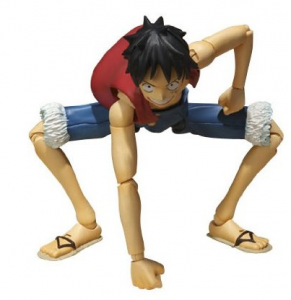 basically :P. Another action figure from Bandai that basically features Luffy ready in his stance for Gear Second!
Number 2–>Roronoa Zoro
Lets follow the crew's strength and continue our suggestions with the strongest swordsman that can't follow directions, Roronoa Zoro.
Another quality figure from Megahouse here, i believe even better than
that of Luffy. You can have different heads for Zoro(with his bandana or not), and i didn't tell you my favorite. He can hold his sword in his mouth! We are talking about an 8 inch figure here, made of PVC.
We also have an interesting and more artistic alternative here from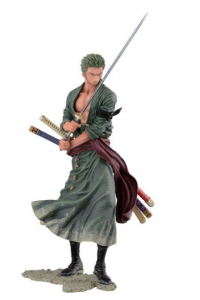 Banpresto, that collectors may want to consider instead of Megahouse's. It is quite similar in height(7.9 inches), and the artwork here is i believe top notch.
For another smaller alternative, someone can check out the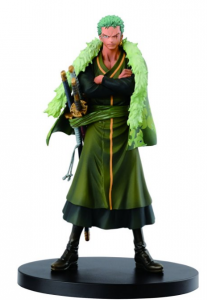 following figure from Banpresto again. At 6.7 inches, this 15th anniversary edition might exactly be what the collectors among you may be searching for. It is a quite cheap alternative as well.
Number 3–> Sanji
This first post on One Piece action figures wouldn't be complete if we didn't include recommendations for the whole monster trio. Wouldn't our beloved Sanji be upset? 😛
Lets start off, with another Bandai Tamashii pick. With interchangeable
hand parts included, and flaming foot effect parts as well, this one is a quite decent choice if you asked me. It is 5.5 inches tall and made of PVC.
A taller alternative is the Megahouse Sanji action figure. It stands at 9
inches and his arms can move whatever way you like. The thing i love about this one is the way Sanji holds his cigarette. Badassery on steroids :D. There are also different face styles available for our favorite cook.
My personal favorite is the next battle version of Sanji, which features his
leg ablaze. A spectacular design for anyone who wants something different from the typical. It is a small figure at 5.5 inches.
Special picks
I want to end this post with some of my favorite picks, that are somewhat different than the ordinary one-character action figures we already discussed above.
The three brothers
An unbelievable action figure set consisting of the three brothers in law,
Luffy, Ace and Sabo, all in one purchase. It is a choice that can save you money as well, because you get all three of the figures at the price of one. The artwork is beautiful with dimensions of 5.5 inches for Luffy, 6.7 for Portgas D Ace and 5.9 for the revolutionary Sabo. This one is a Banpresto action figure set.
The hentai pick
I couldn't keep myself from recommending an action figure for the
perverts among you. And who is better than the Pirate Empress and member of the Shichibukai Boa Hancock? The woman in love with Luffy is more beautiful and stunning than ever in this action figure.
Pirate Alliance pick
Were you inspired by the Dressrosa Arc? Well, i was too. In this action
figure set, of two this time, we can see Luffy along with Law in an exciting battle stance. A Bandai Tamashii action figure set, with a height of 9 inches, this stunning miniature is a must have for everyone who loves a good anime arc reference. After all, it is the way they entered the battle together at Dressrosa. I'm already excited!
Thousand Sunny
Characters are nice and well, but what about our favorite ship? Well, here
we have an unbelievable figure of the Thousand Sunny at a very low price. And the best thing about it is that it saves you even more money. How? Mini figures(unpainted though) of the Straw Hat pirate crew are included as well. Ever wanted cute mini figures of Luffy, Zoro, Nami, Usopp, Sanji, Chopper, Robin, Franky and Brook? They are all included in a package with the Thousand Sunny parts(yes you have to assemble it) with a nice display base as well.
Well, that was it for today's picks. I would really love your feedback on my One Piece Action Figures recommendations. Which ones do you like and which ones do you absolutely hate? Give me your favorite picks as well. p.s Don't forget to like our facebook page for updates and visit our recommendations page for similar One Piece goodies! Cheers!
If it's your first time here, don't forget to:
Thanks, minna and I'll see you next time!