Today's post is titled Red Hair Shanks One Piece. He is the guy we all probably love and respect. It's only logical, he is a cheerful guy with the most badass crew and he even saved our beloved Luffy from the seakings, sacrificing his own arm in the process. To top all that, he even stopped the war of the best by just making his appearance there(!!). That is who Red Hair Shanks or Akagami no Shanks is. There is a lot to be expected from him and his crew, however some questions can arise. Could he be someone else? Is he hiding something?
What does he know?
We are all aware of the fact that he was a part of Roger's crew, and that the pirate king himself gave him his hat, the one he later passed on to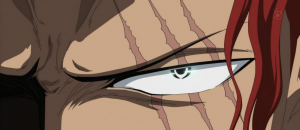 Luffy. It is quite probable that he knows the true nature of One Piece. Also, could it be that the straw hat is connected to the will of the D?
What is his true purpose?
A theory states that after Roger died, Shanks did find what the whole mystery about One Piece was, that way cracking the code to it. However, why didn't he try to to get it? What was the thing that held and still holds him back? But of course, the fact that he isn't a D himself. He needs the will of the D to acquire One Piece, so he decided to manipulate a young kid. Yes, i'm talking about Monkey D Luffy. Who can be better than the grandson of Monkey D Garp? He possesses the will of the D and he is ambitious. Shanks sailed to meet the boy, filling his head with the dream of becoming a pirate. A guy like Luffy, after becoming thrilled with the Pirate King idea, was sure to give his all, in order to acquire One Piece.

So, what's gonna happen?
The general idea is that Luffy will be the one to reach Raftel, as we all believe him to, and unlock the access to One Piece. That is the time when the big surprise will happen. Shanks will come out of the shadows and show his true face, the one he has been hiding for so much time. He'll demand One Piece from Luffy, or take it by force if he has to. We may see a fight that we never even imagined would happen. That theory could also explain why Buggy isn't interested in One Piece, and also, the fact that Whitebeard had Ace, another D, in his ranks. He knew that only he could help him reach it, he was his valuable second in command.
Shanks and Blackbeard
What is the connection between thos two? What happened to Akagami's eye and how did Blackbeard clash with him giving him the scar we all know about? There is a theory that is centered around the fruit that
Blackbeard wanted, yami yami no mi, and the one that shanks had, gomu gomu no mi. The two fruits look quite similar, so there is a big probability that Teach confused the two fruits, trying to steal the one Shanks had.
We've explored some interesting aspects of the badass yonkou, in this Red Hair Shanksand One Piece post and also seen the probability of an evil identity that may be lurking. It all is a matter of time and Eichiro Oda's mood 😉 What do you think? Share in the comment section below.
Last but not least, don't forget to:
Arigatou Minna!