If you ended up on this page, it's certain that you are looking for some cool One Piece anime t shirts. You may have scoured the web looking for the fanciest designs out there, but became frustrated after not finding something extraordinary. The same boring stuff again and again.
Well, don't worry because One Piece Theories has got you covered with our new collection of our favorite t-shirts that exist out there.
So, without further ado, let's get right into our top picks!
Our favorite One Piece Anime T Shirts
1)20th Anniversary t-shirt
Our favorite anime has turned 20 and what better way to celebrate it than
with a 20th-anniversary nakama t-shirt! A limited edition t-shirt not found in stores anywhere.
It comes in round-neck, v-neck and tanktop unisex variations. Also, in the same variations in woman-only versions for our female otakus out there. For colors, you can pick between white, pink and red and it comes in sizes ranging from small to XXL.
The price starts at 19.24 euros. Be sure to check it out before it runs out!
2)I know my limits t-shirt
If you want a signature Luffy t-shirt, look no further. The t-shirt features
a quote that describes Luffy fully: "I know my limits, I just don't pay attention to them!". Combined with Luffy in gear 4th, this t-shirt smells badassery from afar :P!
Here we have a round neck unisex variation, with short or long sleeves, as well as the option of a beautiful unisex hoodie. The colors are dark blue and black, making a nice contrast with the pink stamp. With prices that start at 20.04 euros, this one is certainly a bargain!
3)Does anyone need therapy?
Who needs therapy when you can instead watch One Piece? Here we have
the jolly roger of the straw hats accompanied by the quote: "I don't need therapy, I just need to watch One Piece!". If this one rings true to your ears(it certainly does in mine) don't hesitate to grab your t-shirt while it's still available!
As for the variations, all that I said about t-shirt number one apply here as well. Remember that this one is also a limited edition, so who knows how long it will be available? You can have yours with as low as 20.87 euros!
4)I've come to end this war!
My favorite scene in One Piece thus far. The epic war of Marineford is
coming to an end. That boy Coby is about to be killed by Akainu after his heroic speech. We don't really want to believe he will die, but we can't think of someone that can save him either.
However, the unexpected happens and a badass sword stops Akainu's attack before it pulverizes Coby. "I've come to end this war" he calmly and confidently says. God, Shanks is such a badass. Love that guy! <3
This t-shirt with the jolly roger of the red-haired pirates along with the aforementioned quote is also a limited edition one. I have already grabbed my piece, so I would recommend that you do the same. At 21.25 euros this price is a steal.
5)Luffy holds his hat
This one comes right from the arc with Arlong. Another one favorite scene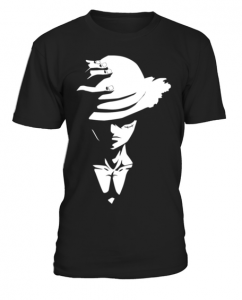 of mine(by the way did you check our top ten scenes in One Piece post? You are missing out!). Nami cries and asks Luffy for help. He grabs his hat, takes it off and puts it in her head. Shit's about to go down.
This one comes in many t-shirt variations, as well as a hoodie and a sweatshirt. Relive the Straw Hat badassery from only 19 euros!(the cheapest of our picks today ;)).
6)Trafalgar Law t-shirt
Does anyone here love Law and the Heart Pirates? I sure do! I have also
dressed like Law before in real life(which I have admitted in our cosplay tutorial of him here, feeling quite embarrassed for sure :P).
The jolly roger of the Heart Pirates, the symbol of One Piece, as well as a beautiful anchor, make this t-shirt top notch, aesthetically-wise. You can choose from many t-shirt variations, with long or short sleeves, as well as a high-quality hoodie for the cold winter days!
7)We go to the New World
A t-shirt quite similar to number 5, with a yellow color on the stamp and
the added feature of the "We go to the New World" quote. Many t-shirt variations, a sweatshirt and a hoodie complete the puzzle of choice number 7. On top of that, with prices starting at 19 euros, it also takes the title of cheapest t-shirt on our list!
8)Zoro badass t-shirt
When talking about Zoro, the word badass automatically comes to mind.
The vice-captain of the Straw Hats certainly deserves a t-shirt just for himself.
Beautiful red and white letters on a black background, along with Zoro shown wielding his three swords, make this t-shirt a must in your collection of One Piece gear.
"If they stand behind you give them protection, if they stand beside you give them respect, if they stand against you show no mercy!"
Is there a better quote to summarize who Roronoa Zoro really is? Don't think so! The price starts at only 19.79 euros and the variations you can choose from here are numerous. From various t-shirts, short or long sleeves, a sweatshirt or a hoodie, everything is available for you!
Final tips
Before I leave you today, I would like to share some tips with you. First and foremost, be sure to buy more than one t-shirts in one purchase, in order to save yourself some shipping costs. Also, be sure to check the size guide on the website page thoroughly, in order for you to choose the size that fits you best.
I hope you enjoyed the picks of our favorite One Piece anime t shirts! If you have any suggestions, comment below and I'll be sure to add them to the post. Also, if you have any questions about anything, don't hesitate to leave them below and I'll do my best to answer them.
Before leaving, don't forget to:
Thanks, minna and I'll see you next time!