With this post i want to introduce a new category of posts, that was much needed. The cosplay category. I know many of you love the art of cosplay, so i decided to get my own recommendations out in the world as well. We'll start with a guide on how to cosplay Trafalgar Law, the Surgeon of Death. Before we move further, you can always check out our article on his crew, the Heart Pirates(spoiler warning of course ;)).
I have myself cosplayed Law, as you can see in the embarassing image i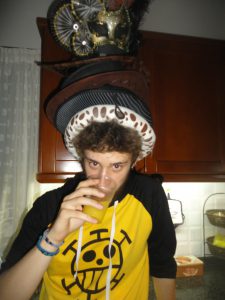 am sharing(a bit of alcohol never hurt anyone :P). I am in no respects an expert on cosplaying, far from it. I will just be sharing the accessories and pieces of clothing i would personally choose. That way i can maybe save you some time searching and choosing yourself, or maybe give you some inspiration, should you be feeling stuck. So, without further ado, let's move on to the recommendations.
The hat
The signature feature of every Law cosplay should definitely be his black and white hat. The pre and post timeskip hats of his are similar in colour, but a bit different in shape, so here we have two different recommendations, depending on the choice between pre and post timeskip Law.
For the pre-timeskip hat, among the different choices that are available, my personal favorite is the following.
At 23 dollars, its quality is top notch. I believe we should not compromise the quality of the cosplay with a low quality hat. It is one of the most important parts of it.
As far as the post timeskip hat is concerned, the one i recommend
is a bit pricey, but it has the best design of the black dots. The cheaper ones seemed a bit, well cheap :P.
The hoodie
Another core part of a Trafalgar Law cosplay is his signature hoodie. I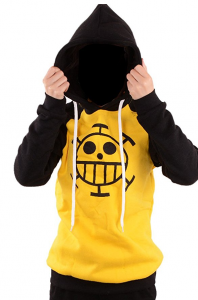 personally love the Jolly Roger of the Heart Pirates, and i do have a hoodie myself ;). Besides the cosplay, you can wear it easily as an everyday
hoodie, not a bad investment if you ask me. Some of the hoodies out in the market, are basically T-shirts with long sleeves and a hood. Cheap design. The one i recommend is a real hoodie and its materials are of top quality. Don't judge me, i love real hoodies, can't stand those fake ones :P.
His post time skip coat
After the timeskip Law mainly appears with a nice, long, black coat. I suggest two choices here, the one with Corazon's mark on it, from the fight with Doflamingo and the classic one. Both are of top notch quality, you can't go wrong with either one of them.
–>>Check the classic one here<<–
–>>Check the Corazon coat here<<–
His blue spotted trousers
Another essential part of any Trafalgar Law cosplay costume is his pants.

The ones i recommend here are hand made, of high quality material and can be made in many different custom sizes, for everyone's need.
Just choose your size and the price will appear, ready for you to order ;).
The sword
The most important tool of a swordsman like Law. A quality replica of his
sword will certainly elevate your cosplay to new heights. There is a whole collection of different replicas of One Piece swords, which i have reviewed here, including Law's. For easy reference, my top pick for Trafalgar Law's sword would be the following.
–>>Check the sword out here<<–
His shoes
As fas as Law's shoes are concerned, any pair of shoes/boots that are of
brown/black colour will do the job. So you can easily use a pair of your own and cut the budget down. However, if you are thinking you may want to buy a pair, there is a particular pair that i found is almost identical to his, at least it is a lot closer to his shoes than the others i saw. They are a nice pair of shoes, that you can of course wear in your everyday life as well. They are a bit formal though, so if you want to combine a formal shoe with a cosplay shoe, you found it :P.
His face
There are three main things you have to incorporate in your cosplay for it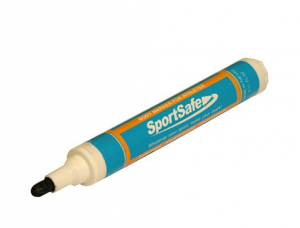 to be complete, regarding Law's face. First, comes his goatee. You can either trim it on your own, or if you don't have facial hair, use
an alternative of fake facial hair. Either get a fake goatee like this one
and trim it to your needs. Or just use a body marker like this one
and paint the details of the beard or the whole beard yourself.
Regarding his make up i would suggest that you either use the body marker from above, if you want something simple. If you prefer something more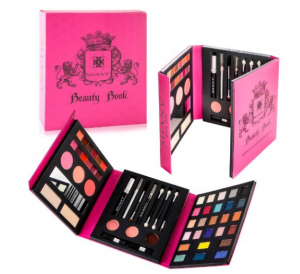 elaborate, purchase or get someone to lend you their make-up set if you don't own one. A cheap and high quality one that i found is perfect for many different cosplays.
Then, consult the following guide ,which i found quite descriptive and easy to follow. As fas as the contact lenses are concerned, the best place i found to buy every colour you like, is a website called Eyecandys. Be sure to check it out.

If your hair is not like Law's, just check out a simple wig like this one. You can easily trim it to make it look a lot more like Law's.
To complete the look, if you don't have holes in your ears, just use some
nice fake earrings.
–>>Check some fake earrings here<<–
His tattoos
For the DEATH tattoo on his fingers i strongly suggest this collection of
letter tattoos. They are perfect for the job ;).

As far as his body tattoos are concerned, i would either use the body marker we suggested above, or use this excellent tattoo body marker, for something of higher quality.
–>>Check the tattoo marker here<<–
That's it
That was about it for today. It was our first tutorial on how to cosplay Trafalgar Law and i would appreciate your comments. Do you like our suggestions or have one of your own? I can certainly include it in the guide, so please share.
If it's your first time here, don't forget to:
Thanks, minna and I'll see you next time!