Product: Crunchyroll                                                                                         Price: Free trial then 4.99euros or 5.57$/month                                             Place to buy: Crunchyroll sign up page                                                        My Rating:9/10
Well, the way this all started for many of us, was by watching the anime. We may now read the mangas or even speculate about theories that don't even exist, but the starting point for most, must have been the anime of One Piece. And there are indeed many ways someone can watch it. You can download or even stream the episodes and it can also be done without spending a dime. There are quite a few drawbacks to all that ways, so we are here to propose an alternative. And that is Crunchyroll, maybe the best place to watch the One Piece anime.
What is it?
Crunchyroll is a membership site, that streams anime. It basically is a service like netflix or hulu, that lets the user legally stream anime. The only difference is that Crunchyroll is specialised in anime. It's the best legal place for someone to watch ,whatever you like really, related to the anime world, easily from the comfort of your pc and not only. It can be used across multiple devices, making it that much more easy to use and enhancing portability.
Why not free?
I must admit it, it is the easy way to go about watching anime. We can say a lot about why it is illegal and even unethical to watch anime that way. It's piracy basically, and you don't even support the creators we know truly deserve it. If that wasn't enough, we 'seen many beatiful anime like Bleach stop airing just because the fans never paid a dime to support them. Let's not forget anime is a business and a way for those people to make a living.
Let's be realistic
I know many don't care that much about the stuff i stated above. Most people are selfish and just want immediate gratification. You want to improve your current situation and maybe don't care that much about the future and the profitability of the anime industry. I'm not here to blame you, i just believe you can also benefit from a crunchyroll membership.
What's in it for me?
First of all, Crunchyroll makes it so easy for someone to watch their favorite anime. You don't have to download episode after episode, you don't have to put up with annoying ads and low quality videos. You just kick back, hit play and have every anime you ever wanted right at your fingerprints, in high definition. It can be done at your pc, your tablet, even your phone, that's how easy it is. You also have access to the latest episodes just one hour after they air in Japan, instead of having to wait for a whole annoying week. If that's not enough you have access to all popular manga if you're the reader type. Also, a beatiful community exists, where you can interact with like minded people. The support is incredible should you have any problems there. Of course you can cancel at any time, no one forces you to stay and no hidden fees there.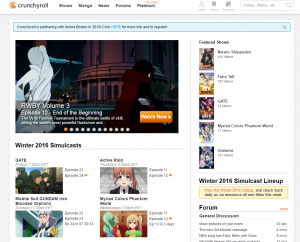 One drawback
A problem does exists for people outside the United States with some shows due to licensing restrictions. Fortunately, there are ways you can fix that, just by changing your dns. For a helpful guide on doing this check here.
A no brainer for any anime fan
It basically is a place full of stuff for anything related to anime. You can get informed about all the latest news and stay up to date with all your favorite anime and manga. There is also a store (with a discount for premium members) with anime figures, costumes and all those weird otaku stuff we all love and want to have ;). You get all that, for the price of 2 coffees, it's ridiculous if you think about it. You don't even have to lose anything if you are not sure, just start with a free trial and see if it suits your needs 😉
If it's your first time here, don't forget to:
Thanks, minna and I'll see you next time!