Today i'm gonna be quick and to the point, exploring a little theory about All Blue and about how the story will unfold in that direction.
The theory is quite simple and discusses the way that All Blue will be created(if it doesn't already exist :P), eventually making Sanji's dream a reality. Could Sanji know something about All Blue, making him important to be alive for the World Government(thus the wanted poster) or could he be a Prince? (All concepts of a later post :P).  So, what is All Blue for those not so familiar? It is a sea where all the other seas can exist as one, along with all the living species of the ocean.
A really interesting idea is that this sea containing all the other seas will be created by the destruction of the Red Line, which of course divides the 4 seas, North, South, East and West Blue. Luffy may be the man destined to do that using either his power, or that of the ancient weapons, which he may acquire later on in the story.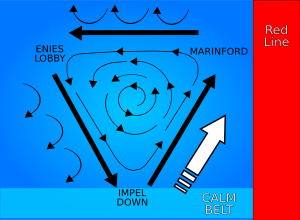 Destroying the Red Line at the Reverse Mountain could mean finding Raftel, should it be stated there. Another way can be by destroying Mariejois, the capital of the World Government, eventually defeating it, freeing people from its reign and injustice and fulfilling the will of the D(the concept of a later post ;)).
The destruction of the Red Line, uniting all seas into one, means letting people and pirates freely roam the ocean, making a reality Luffy's dream of absolute freedom. In addition to that, what Roger had was his love for the oceans and the freedom of a pirate's life, making that freedom his legacy for the people of All Blue :D.
Before you leave don't forget to:
like our 

facebook

 page
Join the OnePieceTheories free anime newsletter!
Thanks, everyone and I'll see you next time!